Skateboarding and Surfing attract an open minded and creative group of people. These two sports instill courage, individuality, and freedom of expression. It's all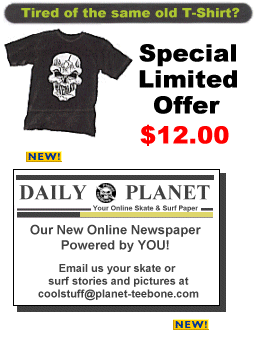 about attitude and keeping it real.
Planet teeBone is based on this concept. We create the most original, alternative graphics printed on 100% cotton Hanes T-shirts. We are constantly expanding our line, so check back often. *Free Sticker & Shipping With Every Order*
If you are totally stoked by these killer T-Shirts, click on the Contest page and see how you can win a dozen FREE T-Shirts!
We also want to throw some info your way. In our Top 10 Lists, we rate the Best Skaters, the Biggest Skateparks, the Best Surfing Spots, and for all you history buffs: Surfing Legends.